Niche Edits: The SEO Technique For 2021 & Beyond
Backlinks are important for every person who has a web property.
Whether you operate a nonprofit or sell teddy bears from your ecommerce store, backlinks can help your site to be found.
Being intentional about building backlinks is important and this article will show you how Niche Edits backlinks can benefit you in 2021 & Beyond. 

What are Niche Edits Backlinks?
Niche edits backlinks are links that are inserted into an aged post.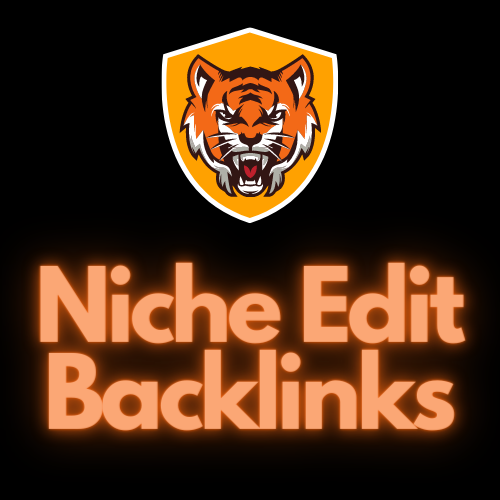 You've probably already done lots of niche edits backlinks on your own sites or those of people who publish content in related areas.
For example, if you publish a new post on pineapple cake and go back to an old post about pineapple pastries and link to your new post from that, you've used the power of niche edits backlinks. 

What are the Benefits of Niche Edits Backlinks?
"Niche edits backlinks are good for your site because they are placed on posts that are aged."
These mature posts are already ranking well on Google and other search engines. You may even have niche edits backlinks on pages that have high Page Authority or a high Domain Rating. That passes on a significant amount of link juice to your new page.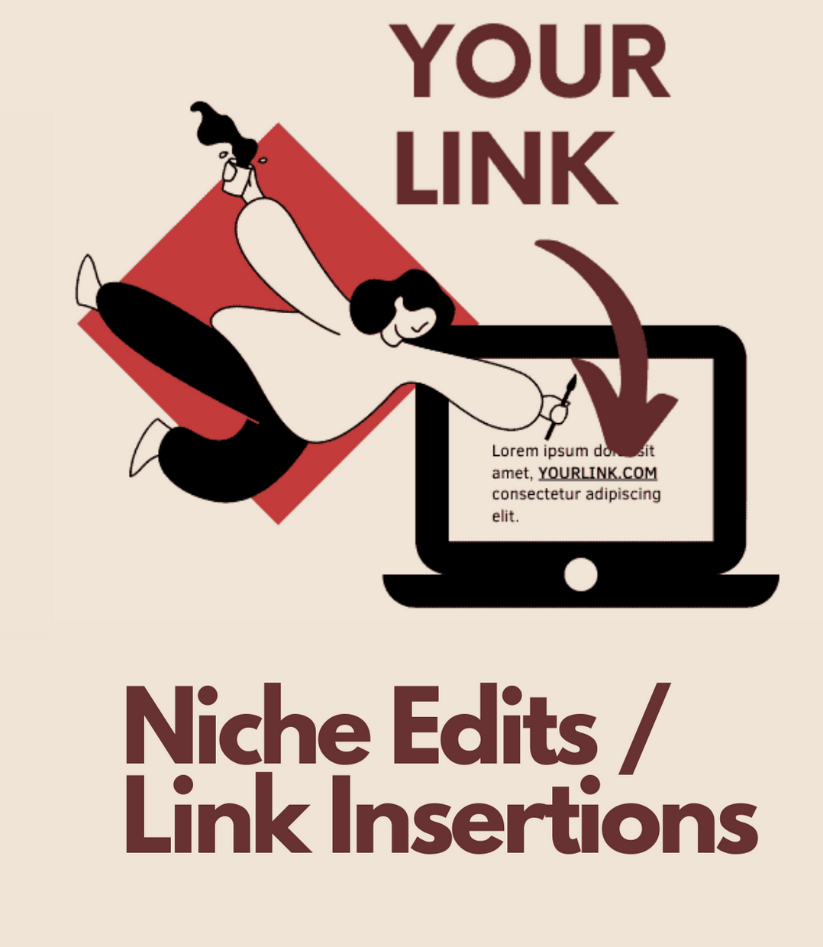 That juice boosts your site and helps it to rank more quickly and receive a higher ranking.
In addition to link juice, your new page will also gain a lot of traffic. The aged page that you used for niche edits backlinks has a regular amount of inbound traffic.
People who visit that page are likely to click through to your page to see what the link to it is all about.
Even if you have just published the new post, you could start getting traffic within minutes or hours with niche edits backlinks. 

How Niche Edits Backlinks Differ From Guest Posts?
A guest post is a new article or blog post that is published on a site that you have an interest in.
For example, if you have a weightlifting blog of your own, you can publish a guest post on another site about the importance of whey for bodybuilders. A link back to your site could be placed within this guest post.
By their nature, guest posts are new. They will need to be indexed and will not have any links to them.
That means they will not immediately pass on a lot of juice to any page that the guest post links out to.
You'll need to take time to write a guest post that matches the theme of the site that you want to publish it on.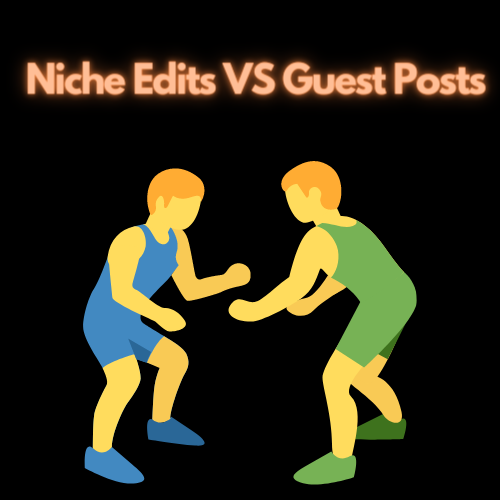 With niche edits backlinks, you won't have to create content in addition to your new page. You'll just look for existing content and have a link to your new page placed there.
With a guest post, you'll have to write a guest post or ask someone to write it for you. This means you'll have to invest more time and other resources.
After your guest post is written, you'll insert a link to your new content. The guest post will then be published.
Since it's also new, your guest post will not have the same level of authority as an aged post on the same site. It will take a little time for it to be indexed as well.
With niche edits backlinks, your link will go on a page that already exists and has already been indexed. 

What are the different types of Niche Edits Backlinks?
There are three different types of niche edits backlinks. These are black hat, grey hat and white hat niche edits backlinks.
All types of niche edits backlinks will pass on juice to your site and help it to rank. However, some of these links are more of a risk than others.
In fact, some can attract a penalty to your site, so it's always better to keep those to a minimum or avoid them completely.
You'll have to stay alert and look out for hackers who may try to establish black hat niche edits backlinks. They'll do this by putting links from your site on other sites which can be harmful to it.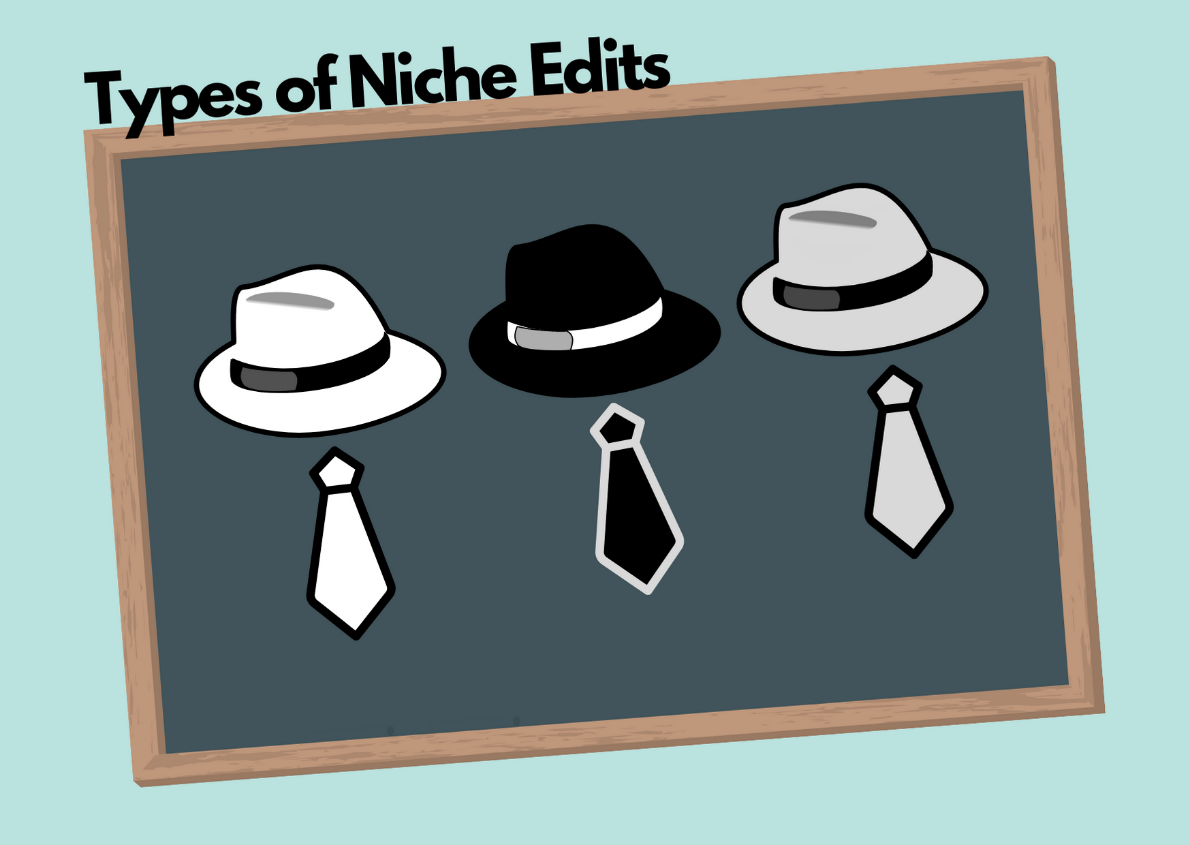 They do this without your permission, so you'll constantly have to use tools to check your link profile and ensure that this hasn't been done.
Hackers will use black hat niche edits backlinks because they want your site to attract a penalty. They hope that your site will drop in the rankings.
Grey hat links are regarded as those that you pay for. The site may be good quality, but because you paid for the placement, it's regarded as grey hat.
White hat niche edits backlinks involve asking the owners of sites to put a link in their content to your site, for free.
They will usually do so if your content is good and adds value to their page. You'll need to spend time finding and contacting the site owners. 

Are Niche Edits Backlinks White Hat?
Most niche edits backlinks are white hat. A few are also grey hat. Sometimes a website owner may ask for a small donation towards the upkeep of their site.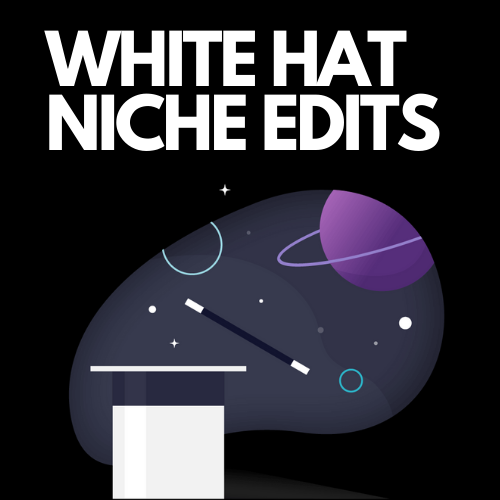 Are curated links the same as Niche Edits Backlinks?
Yes. Curated links are the same as niche edits backlinks. 

How do you acquire Niche Edits Backlinks?
Acquiring niche edits backlinks is a lengthy process. First, you'll have to find out who the owner of a site is.
After that, you'll need to contact them and ask if they would consider placing a link to your content in their site.
You will need to show them how your content can benefit them and their readers. 

How are Niche Edits Backlinks different from PBN links?
Niche edits backlinks are done on sites that are related to your content. PBN links are done on old domains that may be completely unrelated to your content. 

Are link insertions and niche edits or niche placements the same?
Yes. When you do a link insertion or link placement, it's the same as doing a niche edit.
A link is inserted or placed in existing content. The best anchor texts to be used for this process are those matching the keywords that you want to rank for.
Posted by Vikas (Aka Sam)
---
Vikas has helped various business out grow their competitors in organic ranking. He is a Professional SEO Consultant and proud owner of SamBlogs.com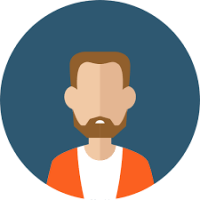 The good form for making seo-tools, providing various straregies in the high-quality niches and you will see how this can influence on your website rating. AS I know, a lot of people in nowdays need to work with the good text instruments as the spinning text or the similar keys.
Excellent information about SEO. It explains how SEO marketing works very well. Btw, it is a suitable method if you want to promote a website or service online. I found out about SEO marketing strategies one year ago, and I used the services. They used the same techniques and strategies you have shared, and it helps a lot to make your website easier to find. Using the SEO services helped me get a lot of new customers, and they are continuing to arrive on my website and use my services.
Excellent information for SEO. SEO is a natural way to improve the site. It provides me a lot of information. This is the best source of information.